All Natural Grass Fed

BONE BROTH
Our Bone Broth is the

unsung hero of our collection.

30 DAY BONE BROTH CHALLENGE!
7.5 LITERS ALTOGETHER.
1 cup per day 30 DAY SUPPLY
BONE BROTH CHALLENGE PACK.
includes 30 250ml (7.5 liters total bison bone broth
frozen Ready for every day use
COLLAGEN SHOTS BODY BEAUTY AND HEALTH
ALL IN ONE SHOT!POWERFUL HEALTH BENEFITS,
NO WORKOUT COMPLETE WITHOUT IT!


Price $225.00
Bone Broth Joint Health
30 MONTHYMAINTENANCE SHOTS
3 LITERS

Broth DAILY SHOTS 100 ml SHOTS


30 DAY SUPPLY SUPER SHOTS.


SHIP'S CANADA WIDE

1 SHOT PER DAY 30 DAY SUPPLY SUPER PACK
includes 30 100ml bison bone broth frozen

Ready for every day use. Price: $95.00 CAD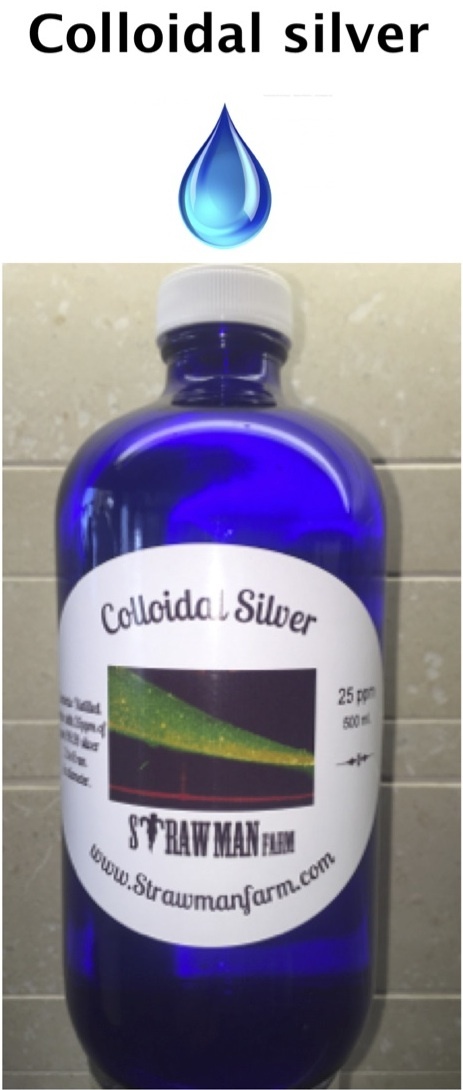 COLLOIDAL SILVER

This is the safest and most effective Colloidal Silver available! We guarantee you will love this product or your money back. It is electrically produced in small batches utilizing state-of-the-art technology and .999% pure silver. We use laboratory grade, ultra pure water that is specially structured to more efficiently accommodate a greater amount of silver. The solution is a safe and effective 15ppm. It is very stable, contains uniform particles of the smallest possible size (as small as .0008 microns), and is 100% clear due to the minute size of the silver particles. Laboratory tested and guaranteed to be pure, potent and free of additives. There are no side effects or drug interactions with our supplements and they can safely be used on a daily basis if desired.
What is Colloidal Silver?

Strawman Farm Colloidal Silver is a dietary supplement comprised of submicroscopic particles of silver and silver ions, electrically suspended in pure water. The particles of silver are over 1000 times smaller than a human blood cell, and the liquid is clear. This ultra small particle size allows the silver to easily travel throughout the body and be eliminated on a continuous basis, with no risk of build-up. Strawman Farm Colloidal Silver is the safest and most effective form of silver supplementation available. Price $30.00 250 ml bottle
Colloidal Silver Water is a safe, effective, and fast-acting natural remedy. The benefits and applications of Colloidal Silver are innumerable, this is a powerful natural preventative against infection and disease. Not only is the Colloidal Silver able to protect your body from infection, but in cases where the body is fighting infection it will boost the immune system to help rapidly overcome many strains of pathogens. We are very confident you will be pleased with the results you receive.

Dropper bottle
Colloidal Silver Eye & Ear Drops 2 OZ/50 ml W/Dropper Pure water with 99.999% pure Silver
Apply Direct to Eye or Ear

Price 15.00
Colloidal Silver Eye & Ear Drops

is a safe, effective, and fast-acting natural remedy. The dropper allows as little as one drop to be administered directly into the eye. The Eye & Ear Drops are sterilized we use only Medical or Pharmaceutical Grade De-Ionized water to ensure a pure product. Various eye and ear infections can be treated, in some cases it is overnight, in other cases it could take as long as 21 days. The Eye and Ear drops are effective for all age groups including very young babies. Colloidal Silver is a natural and effective curative that is safe and effective
Dropper bottle
Colloidal Silver
Eye & Ear Drops
2 OZ/50 ml W/Dropper
Pure water with
99.999% pure Silver
Silver Concentration 25 ppm
Apply Direct to Eye or Ear

PRICE $15
PRICE
Replace your hand sanitizer with
COLOIDAL SILVER SPRAY
Colloidal Silver Respiratory Spray is a safe, effective, and fast-acting natural remedy. The fine sprayer is designed to administer a mist of Colloidal Silver directly into the throat and lungs. This Respiratory Spray has case's of Pneumonia which have been eradicated within 48 hours, the applications also eradicate many cases of Bronchitis, Influenza, and Sinusitis have also been successfully treated. In some cases where convention methods were not able to supply a cure, the Colloidal Silver was able to successfully reverse the condition. We cannot guarantee the spray will treat all sore throats, however we have received many testimonies of sore throat prevention, while
Spray bottle Colloidal Silver Respiratory Spray 2 oz/50 ml OZ
FINE MIST SPRAYER Pure water, 99.999% pure Silver

PRICE $15